Ministry of Hope Mission Trip – Back Home
March 10, 2020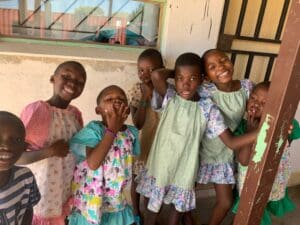 By Jodi Beckham
We began our long 2 day journey home with the 5 hour drive from Maseru, Lesotho to Johannesburg. The drive is beautiful through little towns with Dutch names. I was trying to soak up every last minute of this beautiful place.
We stopped at a Wimpy gas station in one town for a break. I was looking over the newspaper and showing Nancy Dimmock the headline in Afrikaans with the word, "Korona" in it. Even on that side of the world I had to assume that headline was spreading the fear of the disease the world has become so afraid of. I noticed one of the employees staring at my feet. She looked at me and pointed to my feet and waved like, "give me." I ask her, "What, you want my shoes?" She smiled and I walked over and slipped one off for her to try. It fit her perfectly, and again she asked for them. The night before, I had caught the end of Cinderella back in my guest house room, so I just had to give them to her. I couldn't understand why she wanted my old, pink sandals. I felt bad giving her my dirty shoes but she was elated and jumped up and down and hugged me. The other employees in the store applauded and we all laughed. As I walked out of the store barefoot I was overwhelmed with the truth it is truly better to give than to receive.
It was nice to give something at the end of this trip. I feel like I received so much from these 8 days in Maseru: new experiences, new friendships, new perspective on the world, the beauty of Africa, so much love! I gained new appreciation for my clothes washer (they wash clothes by hand at the MOHL house - yes, for all 26 children), my bed, my coffee (Nescafe is big in southern Africa, not brewed coffee).
It is good to be home. It is good to be off of the 15 ½ hour plane ride. Julie and I raced through JFK just in time to make our short flight to Charleston. As we flew down the east coast of the US I made out the Outer Banks of NC. I knew the next line of high rises had to be the Grand Strand, followed by a beautiful stretch of land and inlets I know and love so, of Georgetown. I know this place like the back of my hand. Though I never realized just how big Francis Marion National Forest is until I saw it from that viewpoint! This trip has given me many new viewpoints, as I guess travels do. 
When we landed in Charleston, I got to have lunch with Chris and our girls. How grateful I am that I have this beautiful family I get to care for, while so many African women can't afford to care for their own children, and many others have died, orphaning their children. At home my peach tree is full of blossoms as signs of spring are everywhere. For some reason, those little pink blossoms covering that tree remind me of those 26 sweet, beautiful children of Ministry of Hope Lesotho. With tears in my eyes and heart breaking, I remember them and pray for them this morning. When I told her I was afraid to take this trip because it might break my heart, my wise friend and pastor, Ellen Skidmore, told me sometimes our heart has to break so it can be filled more with love!
I am grateful for love. From my devotion this morning I pray, "May I live in the light of God's presence so my light may shine in the lives of others."
"If we love one another, God lives in us and his love is made complete in us." 1 John 4:12