First Full Day in Maseru
March 2, 2020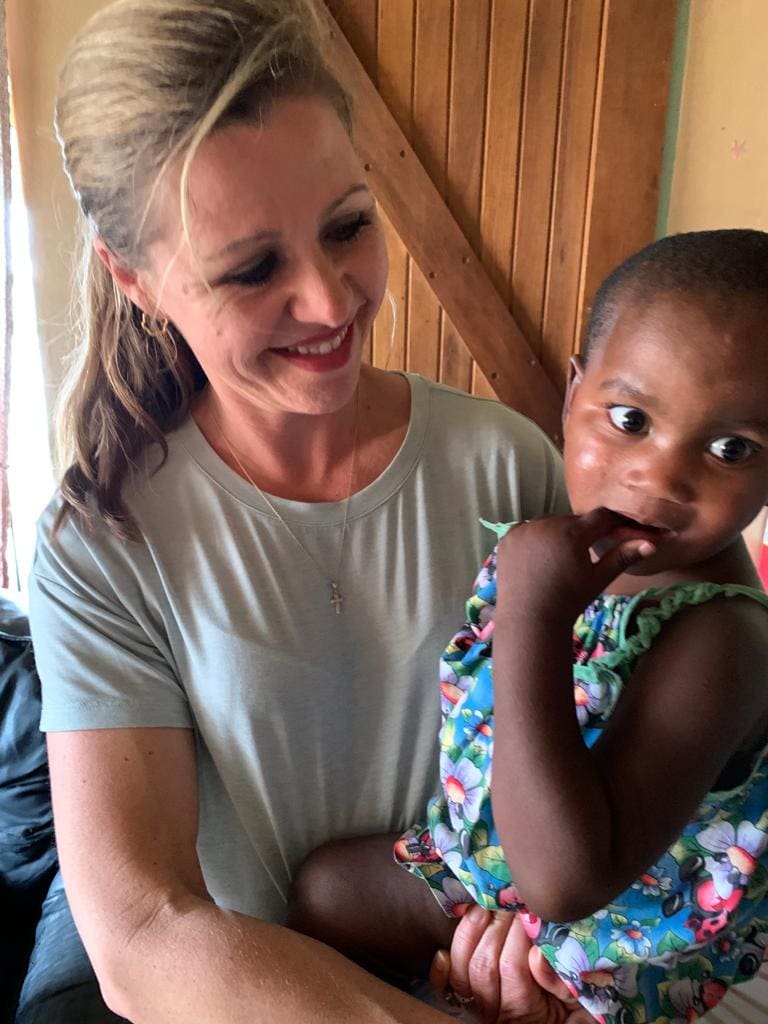 By Julie Warren
What a beautiful day filled with many blessings. We started the day attending a church service in downtown Lesotho that Nancy Dimmock and her family attended while living here. It was an interdenominational service and it was beautiful. We then toured around downtown Lesotho and made a lunch stop at a local hotel that served a delicious lunch. After lunch we headed to The Ministry of Hope for some play time with the children. They welcomed us with open arms and lots of excitement. It's was as if we had known them forever. They were so happy to see us. We played several rounds of hand clapping games that they made up and did Itsy Bitsy Spider countless times. They loved posing for pictures and then looking at themselves. A couple good selfies is all they needed. They hopped from lap to lap scared to miss out on any of the action. I walked outside with three of the children ages 6, 7, and 9 that went out with a bucket of water. They were washing some of their clothes and socks and hanging them to dry. These kids are so incredibly well behaved, happy go lucky, and just want to hug. They all look out for one another and truly are like a family. Most of the children don't speak English but love to carry on an entire conversation with us as if we understand their every word. I did lots of head nodding and "oh my" today.
We took a tour today of their small run down three bedroom house and I came out feeling so sad for them. They have 26 kids living in this tiny house with one bathroom. Their house is in shambles and needs so much work and all that they want us to do this week is plaster the porch, fix drapes around the house, and help with the chicken coop. All I want to do is find them money and build them a new house. I know this is not reasonable on this trip so I will make the best of what we can do for them while I'm here, fill their requests, and then carry out my mission when I return home!
It's amazing to watch and hear the stories of these precious children that have come so far since coming to Ministry of Hope. Mamonyane has truly been a blessing to these children and has nursed them back to health. Many of the children in the pictures came to her starving and neglected. There are many miracles living in Ministry of Hope and I want to be fully present to watch this wonderful week continue to unfold.
We are reflecting on Romans 12 this week and verse 2 says "Do not be conformed to this world, but be transformed by the renewing of your mind, that you may prove what is good and acceptable and perfect will of God. God is speaking to me this week through this verse. He wants me to go out and abandon the chase for pleasures and status and possessions and be transformed. God wants me to serve Him and follow His purpose, not my own. He wants me to open my eyes and my heart so that I can see all of those things this week and then bring it home and continue working for Him. I hope you all will follow Ministry of Hope Lesotho (ministryofhopelesotho.org) and consider praying for them and all the children they serve. If your heart feels led, donate money. You can give a monthly donation that can help them so much. These children are in desperate need of so much and after seeing it first hand, I feel led and privileged to help. All the money given to Ministry of Hope goes directly to supporting these children!